Vice commissioned us the creation of this interactive installation for Adidas Originals to be set up in two festivals in Spain: Primavera Sound 2012 in Barcelona, Optimus Primavera Sound in Oporto and SOS 4.8 in Murcia. You know that at the hugest party will be at the end of the night, but we'll be all wasted... Let's record everybody's best dance moves and play them all together online. And if we have no memory of the concert, we'll still be able to recall the coolest party ever. User experience: Users would enter the recording room, either alone or with their friends When the countdown ends, music starts playing and users have 7 seconds to make their best dance moves Everything is recorded without user intervention: background is removed moves are shared in social networks, ...
Read more and see all pictures »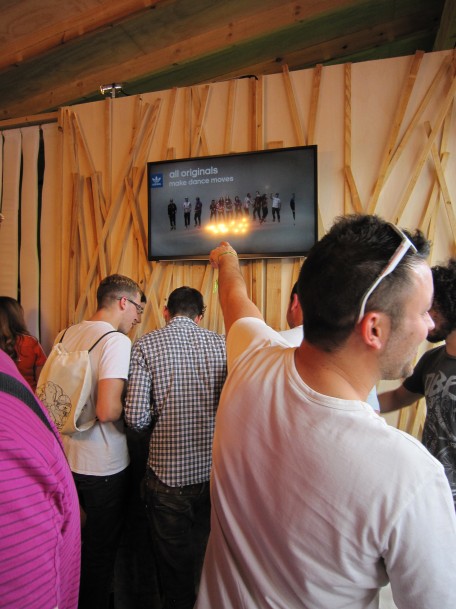 Technical direction of all the contents in diesel.com, creative direction (together with the whole interactive team, "Los interactivos") The product stories themselves were developed by Hi-Res!, Wysiwyg, Magnetic North, …
Read more and see all pictures »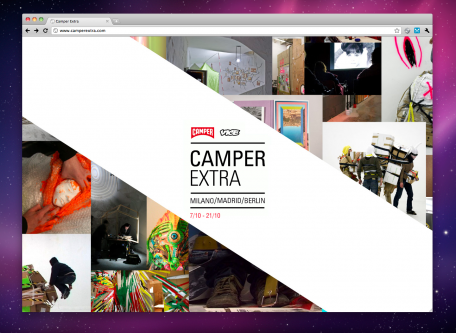 Camper Extra is a project developed by Vice Magazine for Camper which took place in 3 European cities (Madrid, Berlin and Milano), which comprised activities related to art and creativity. We developed a multilanguage and multicity website which showed contents related to the city of the user in his language. We developed a custom CMS system to administrate all the contents in the blogs, calendars, workshops of the website.
Read more and see all pictures »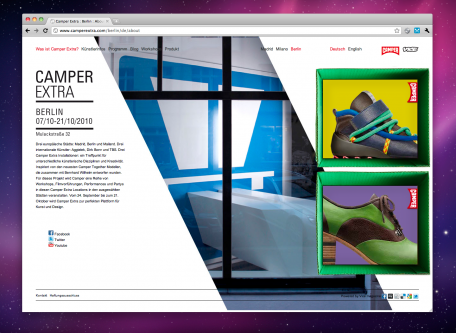 "Two girls, who want to be famous at any price, kidnap Diesel's Intimate Brand Manager. Their plan is to stay in a motel room streaming through the internet everything that they do and interacting with the public until Diesel gives them the chance to appear in one of their fashion shows." This was a nonstop 120 hours event (5 days), during which time we directed the activities of the models and continuously streamed everything to the internet. Chats and messages could be sent to the (fake) motel room, allowing the visitors of the kidnapped diesel website to interact with the characters of the story while (yet another) viral campaign was running in the background. The result: millions of visits, thousands of new friends. Tasks Technical direction Script with ...
Read more and see all pictures »
"Quique is a head. He is a stylish guy, so he always wears a Mowie. Now, he is the subject of a documentary made by an Australian TV channel where they show how integrated he is in his environment."This is the starting point of a story that we developed to promote the Mowie, Diesel's helmet. It evolved to a softer and cleaner video, but it is still crazy enough for some of you ;) Tasks Original script and story
Read more and see all pictures »