We just launched Sr. Mistu – the Great Olive Pursuit, an iPhone game about a little blind man who travels around the world with his dog Gaido to find olives for his pizza. Sr. Mistu ran out of olives for his pizza. What will he do? What anybody would do: embark on an epic journey that will take him around the world… and maybe further away. Isn't he brave?You and Gaido (his little guide dog) will go with him in this adventure. First, you teach Gaido the path and then, he walks Sr. Mistu through the level. This is team work! The game has been acclaimed worldwide from games and illustration enthusiastics. It has also been the App of the Day in Gizmodo.com and was the winner of the devUp - Developers conference in Barcelona. It has also been in the TOP 50 games list of ...
Read more and see all pictures »
We sliders is an abstract puzzle. In its first stage, you have to wonder how to play the game. After the first gratification, the game becomes an eye candy which becomes increasingly more difficult and addictive. CreativeApplications.net: "Absolutely lovely" Dentsu London Blog: "The real beauty of it is its uniqueness" App Store user Botanical3: "5 STARS - It's so beautiful you find the patience to keep going till you solve it. For enlightened game players only. Thank-you devs for this rare treat. There's just not that many out there." App Store user OkayLady: "5 STARS - Colors are beautiful. Interface simplicity and you get the rules after just a few boards but challenge is still there i can see a lot of relaxing puzzling in my future :) Sweet unique li ...
Read more and see all pictures »
*S,C,P,F... Miami approached us to program this application for Coca Cola. The agency provided all the sounds, designs and animations and we put it all together to work on the iPhone. This application allows the user to create a ringtone for his iPhone based on soccer games sounds. Although it is based on a clear concept and it is very easy for the user, it makes use of some innovative techniques to record sound and animate static PNGs on the iPhone Thanks to our custom libraries we could cut the development to half of the time initially estimated. You can download this application free.
Read more and see all pictures »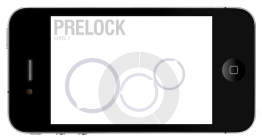 In this game the user must connect all the marks in the perimeter of the circles. When them all are connected, the user can access the next level. Prelock is based in a game for the web that we made on May 2003
Read more and see all pictures »